Welcome to APD International
Electromechanical remanufacturing experts
The concept of the Circular Economy and associated remanufacturing strategies are new to many. However, these processes are well established in some industrial environments.
APDI prides itself on being a Company of technical competency and commitment to our customer's requirements at all levels. Senior staff & Engineers are highly experienced technically having spent many years in manufacturing/remanufacturing environments. Customers can confidently discuss technical and commercial aspects of the business, knowing that their requirements will be understood and resolved quickly and effectively.
As a result APDI can offer a total solution to your remanufacturing requirements.
Dedicated engineering resource allows the Company to work on a range of electro-mechanical products from concept stage through to sampling, testing and supply, delivering products which, often have a working life longer than that of the OE product.
Operationally our staff are fully trained in identification and assessment of the cosmetic and functionality characteristics of a wide range of componentry, vital in the successful remanufacturing of any product to an as new condition
In parallel our experience in the Reverse Supply Chain allows us to work with, or on behalf of our customers to implement an efficient core return strategy ensuring maximum benefits are realised. Thus delivering the financial and environmental benefits as defined in the Circular Economy that only remanufacturing and recycling can deliver.
Kaizen teams enable us to draw on our valuable experience as a resource for process refinement. All areas of our business are reviewed for efficiency and effectiveness from receipt of incoming product,to BOM content and work instructions, to testing and packaging/identification requirements.
Benefits
Combining our customers product knowledge with APDI's remanufacturing expertise our customers now save between 40-60% against  new buy cost, generating £M's of savings annually, providing huge environmental benefits through precious raw materials savings and reduced landfill.
APDI Ltd welcomes the opportunity to work with your  design teams advising on the best practices in component, sub assemblies or modules design, ensuring that cost efficient re-use, remanufacture or simply ease of disposal opportunities are maximised.
Read more about how we can benefit your company»
Latest from our blog
Remanufacturing
Remanufacturing is the rebuilding of a product to specifications of the original manufactured product using a combination of reused, repaired and new parts. It requires the repair or replacement of worn out or obsolete components and modules. Parts subject to degradation affecting the performance or the expected life of the whole are replaced. Remanufacturing is a form of a product recovery process that differs from other recovery processes in its completeness: a remanufactured machine should match the same customer expectation as new machines.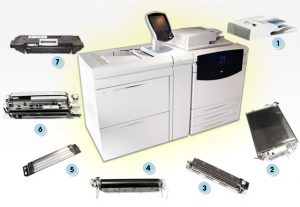 In 1995, the United States Environmental Protection Agency (EPA) implemented the Comprehensive Procurement Guideline (CPG) program to promote waste reduction and resource conservation through the use of materials recovered from solid waste, and to ensure that the materials collected in recycling programs will be used again in the manufacture of new products. The EPA is required to designate products that are or can be made with recovered materials, and to recommend practices for buying these products. Once a product is designated, state and federal procuring agencies are required to purchase it with the highest recovered material content level practicable.
In 2004, the EPA published its third CPG update (CPG IV) which designated seven additional products and revised three existing product designations. One of the new product categories to be added was Rebuilt Vehicular Parts. The EPA defines rebuilt vehicular parts as "vehicle parts that have been re-manufactured, reusing parts in their original form. Rebuilt parts undergo an extensive re-manufacturing and testing process and must meet the same industry specifications for performance as new parts."
In the UK, a market potential of up to 5.6 billion GBP has been identified in remanufacturing, with the benefits said to be improvement to business margins, revenues and security of supply.
https://en.wikipedia.org/wiki/Remanufacturing
---
Our Mission and Principles
of Remanufacturing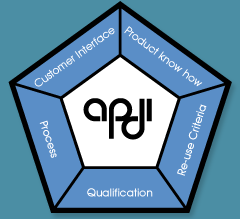 Our Mission is to be regarded as experts in the re-manufacture of electro-mechanical modules/ assemblies. Click a segment for more details.
Learn the module application and customer expectations. Understand the module design and component functionality.
Learn the failure modes- Critical to know the reman process will capture all failure causes. Develop re-use criteria for all components.
Ensure capability of new materials. OE materials/components preferred. Rigorous field trials. In-house testing to ensure functionality and life.
Understand assembly requirements and settings- dedicated tooling and fixtures to provide capability. Fully trained workforce participating in the development of the process and FMEA's. Robust final inspection. 100% machine test often used. Continual improvement as process matures. Build team involvement.
Work closely with customers' & supply chain from design through manufacture to field support specialists.
The Circular Economy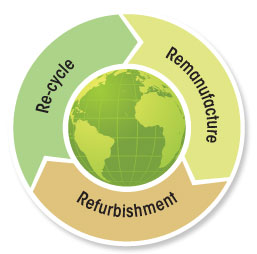 APD have been at the forefront of the re-use/recycling industry, saving over 100,000 tonnes of landfill in the past 10 years.
Why use APDI?