Circular Economy
Original equipment manufacturers face a future of dwindling natural resources and increasing, competition from low-labour-cost countries. This, coupled with social pressure adds to the need to make best use of the materials already contained within existing end products. Historically product life cycles have been modelled on the strategy to "Take materials from the ground, manufacture, supply, dispose". In today's environment the strategy of a "CIRCULAR ECONOMY" is becoming a critical part of resource utilisation and profitability for many companies. Efforts to Reuse, Remanufacture and Recycle are key to a successful environmental and cost effective business model.
APDI listens to customers and helps them find appropriate ways to implement a CIRCULAR ECONOMY strategy, ensuring the best use of those products that have reached the end of their first useful life.
We are specialists in
Remanufacture
Fully configured to latest specifications with product performance (including life) to equal or better new build. Transparency in cosmetic appearance compared to new build
Refurbishment
Repair and clean with product performance as new, but with reduced life expectancy and cosmetic indicators of previous use.
Re-cycle
To reuse many internal components and strip for waste stream disposal the remaining materials minimising landfill.
Whichever option is chosen, the expertise of APDI is available to help maximise the benefits to the customer, in both service returns for spare parts and assemblies, and Full Product Field returns.
We estimate that in the past ten years alone we have saved our customers the costs of disposing of over 100,000 tonnes of metal and plastics to landfill.
However, this is only one small part of the benefit. With increasing material and labour costs OEs are anxious to hold down the average costs throughout the life span of a whole product range. What better way than to use remanufacture replacement modules, particularly when servicing a client's machine against a fixed service contract. Our long experience shows that use of such modules can more than halve the cost of replacement.
Experience also shows us that OEs are not necessarily the best focussed on getting their used products back from the field, sometimes as little as 30% being  returned.
Recent costing's showed one client  losing potential savings of £1.4m each year because of failure to get sufficient products back from their customers. This led us to develop our own process for helping them to increase the return of used parts from the field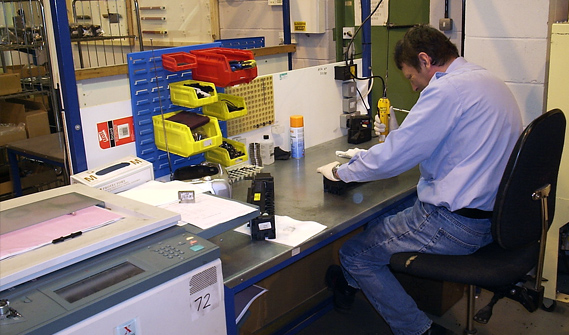 Assembly bench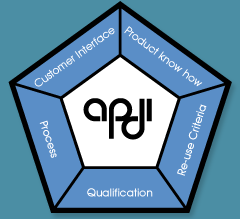 Our Mission is to be regarded as experts in the re-manufacture of electro-mechanical modules/ assemblies. Click a segment for more details.
Learn the module application and customer expectations. Understand the module design and component functionality.
Learn the failure modes- Critical to know the reman process will capture all failure causes. Develop re-use criteria for all components.
Ensure capability of new materials. OE materials/components preferred. Rigorous field trials. In-house testing to ensure functionality and life.
Understand assembly requirements and settings- dedicated tooling and fixtures to provide capability. Fully trained workforce participating in the development of the process and FMEA's. Robust final inspection. 100% machine test often used. Continual improvement as process matures. Build team involvement.
Work closely with customers' & supply chain from design through manufacture to field support specialists.
The Circular Economy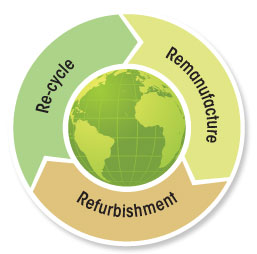 APD have been at the forefront of the re-use/recycling industry, saving over 100,000 tonnes of landfill in the past 10 years.