Total Control
APDI Ltd operates a fully Integrated Management System designed to focus on continual improvement avoiding over-bureaucratisation.
The system is audited to the meet the requirements of ISO9001, ISO14001 and the EICC code of Social Responsibility (CSR) in addition, audits over-and-above the three major standards are scheduled. Ranging from manufacturing Process Audits, to disaster recovery planning, ensuring that APD maintains total control of its key business functions.
Overseen by  Senior Management Meetings the company's performance is examined against its business plans and targets, ensuring that a "Top Down " approach is taken, demonstrating leadership commitment to customer satisfaction and company growth.
The Annual System Review gives further opportunity for Senior Staff to question every aspect of Company direction and performance. At this meeting the Company formally evaluates its strengths and weaknesses both technically and in the market place. Thus enabling system changes, designed to improve efficiency and effectiveness in both remanufacturing and business processes to be implemented.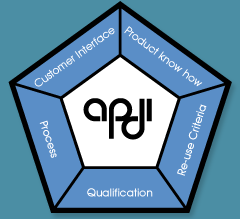 Our Mission is to be regarded as experts in the re-manufacture of electro-mechanical modules/ assemblies. Click a segment for more details.
Learn the module application and customer expectations. Understand the module design and component functionality.
Learn the failure modes- Critical to know the reman process will capture all failure causes. Develop re-use criteria for all components.
Ensure capability of new materials. OE materials/components preferred. Rigorous field trials. In-house testing to ensure functionality and life.
Understand assembly requirements and settings- dedicated tooling and fixtures to provide capability. Fully trained workforce participating in the development of the process and FMEA's. Robust final inspection. 100% machine test often used. Continual improvement as process matures. Build team involvement.
Work closely with customers' & supply chain from design through manufacture to field support specialists.
The Circular Economy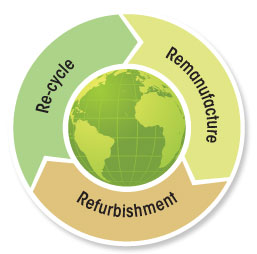 APD have been at the forefront of the re-use/recycling industry, saving over 100,000 tonnes of landfill in the past 10 years.